Aladdin Airport Parking San Diego
Off-airport economy parking garage space at a great location close to San Diego International Airport (SAN).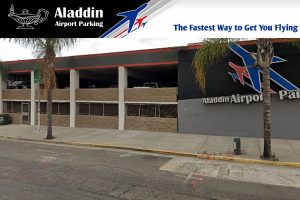 Amenities / Parking Facilities :
Continuous, FREE Shuttle bus leaves every 10 minutes. Service also available to the Cruise Pier
Shuttle Tracking
Self & Quick-Valet parking
24 Hour Security, Camera Surveillance
24 Hour Lot Attendant
Car Wash / Detail on-site
Parking Types & daily rates :
Quick-Valet Parking ($24/day)
Indoor Parking ($19/day)
Rooftop Parking ($17/day)
Promotion :
– Save $1/day (Coupon Rate is $18.00 Indoor, $16.00 Roof, Valet $23.00)… read more here.
– $2 off per day special coupon and SAVE! visit here.
Reservations :
visit Aladdin Airport Parking official website for online booking Here.
Or
Book Here
Address :
Aladdin Airport Parking
2548 Kettner Blvd., San Diego, CA 92101
Phone : (619) 696-7275
Fax : (619) 696-1204
Website : www.aladdinparking.com
Find more San Diego Airport Parking (SAN) Lots :
FIND THE BEST AIRPORT PARKING OPTIONS.
Aladdin Airport Parking, San Diego's Park, Shuttle & Fly (Lot A), WallyPark Airport Parking Garage, San Diego Airport Parking, San Diego's Park Shuttle & Fly (Lot B), Wyndham San Diego Bayside, Horton Plaza Garage San Diego, Horton Plaza Garage, Columbia Garage and many more.
Compare parking lots, rates, info and reviews.