Animal Crackers LLC
LA's neighborhood pet store providing quality pet supplies and services to the Los Angeles area since 1993. Animal Crackers offer pet supplies, training, grooming, & more!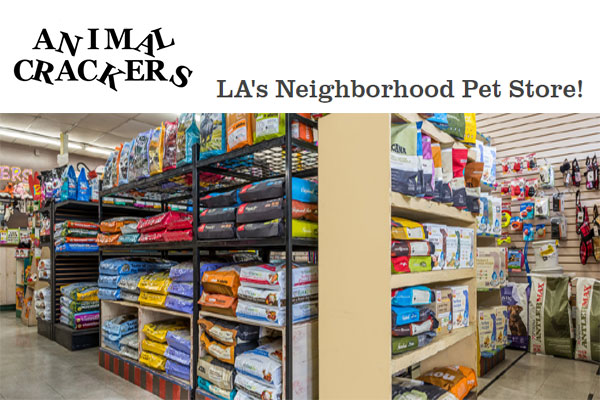 Services :
– Low Cost Vaccinations
– Non-Anesthetic Teeth Cleaning
– A BRAND NEW Behavior Training Facility and Program
– Dog Walking and Pet Boarding
Products :
Stocks a large selection of pet's favorite food (large selection of raw foods and freeze dried complete meals and treats), toys, and accessories.
– Popular Dog & Cat Food Brands
– Freeze Dried & Raw Food Products
– Treats
– Supplements
– Beds
– Crates
– Collars & Leashes
– Toys for all pets
– Flea Treatment
– Plus All Natural Treatments for Pets, Homes, Yards and Other Products for Birds, Small Animals and Fish Food.
Address :
Animal Crackers LLC
8023 Beverly Boulevard, Los Angeles, California 90048
Opening Hours :
(Open 7 Days A Week)
Mon – Fri: 9:00AM to 7:00PM
Sat & Sun: 10:00AM to 6:00PM
Phone : (323) 658-1919, (310) 659-1919
Email : hollis8023[at]aol.com
[at] = @
Website : www.animalcrackersla.com