Compartes Chocolates | Made by hand in LA. Gourmet Chocolate Gifts, Bars, Truffles
One stop shop for the chocolate enthusiast! Located at 516 N La Brea Ave, Los Angeles CA 90036, USA.
Founded in 1950, Compartes chocolates are handmade daily from scratch in it's Los Angeles chocolate factory in the finest European tradition, then carefully packed into classic and beautiful gift boxes. Using the freshest natural ingredients, Its chocolate assortments are filled with everything from chocolate dipped apricots, pineapple and chocolate orangettes to chocolate covered Oreo cookies, chocolate Graham crackers, chocolate pretzels, chocolate coated homemade marshmallows, toffee and much more!
Products are Gourmet Chocolate Gifts, Luxury Premium Handmade Chocolates. Custom Chocolates, Gourmet Chocolate Bars, Chocolate Truffles, Milk Chocolate, Organic Dark Chocolate, Corporate Gifts, Business Gifts, Holiday Gifts, Confections, Chocolate Gift Baskets, Gift Boxes & more.
Corporate Gifting
Personalized chocolate gift solutions for companies, corporate gifts, holiday gifts, employees, business partners, events and more. Offer fully customizable, branded chocolate gift boxes and gift towers, perfect for seasonal gifts, office gifts, or any occasion.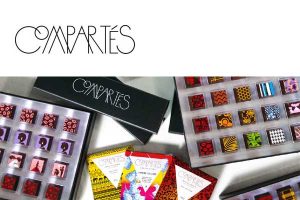 Where to Buy ?
Retail Store :
COMPARTÉS CHOCOLATIER
516 N La Brea Ave
Los Angeles CA 90036, USA
CUSTOMER SUPPORT
[email protected]
Phone: +1 (310) 826-3380
Online Delivery Options : Enjoy FREE USA SHIPPING on orders over $99
FREE SHIPPING direct to your door! Order below:
www.compartes.com