A source for organic, clean + ethically produced foods inspiring you to live your best life. A luxury supermarket chain offering the finest selection of organically-grown produce, groceries and macrobiotic staples, with six locations serving the community since 1968.
Locations : CALABASAS, LA – BEVERLY, PALISADES, SANTA MONICA, SILVER LAKE & VENICE.
Products :
– Erewhon Grocery / Organic Produce
– Meat / Fish / Seafood
– Immunity Essentials
– Baby, Beans, Condiments / Dressings, Home Supplies, Pasta, Rice/Grains, Pasta Sauce, Bread / Wraps / Pies
– Dairy + Dairy Alternatives (Butter, Butter/Creamer Alternatives, Cheese, Cheese Alternatives, Eggs, Milk, Milk Alternatives, Yogurt, Yogurt Alternatives)
– Erewhon Kitchen / Organic Dishes
– Water, Beverages, Pressed Juice / Shots
– Snacks
– Cereal / Oatmeal
– Home Goods (Seventh Generation eco-friendly cleaning, paper, and personal care products + Mrs. Meyer's Clean Day household cleaners + Dr. Bronner's organic soap and personal care products + If You Care kitchen and household products + Face Mask Washable Reusable etc.)
– Pet Food
Erewhon Online Grocery Shop offers
Delivery
In-store Pick-up
Curbside Pick-up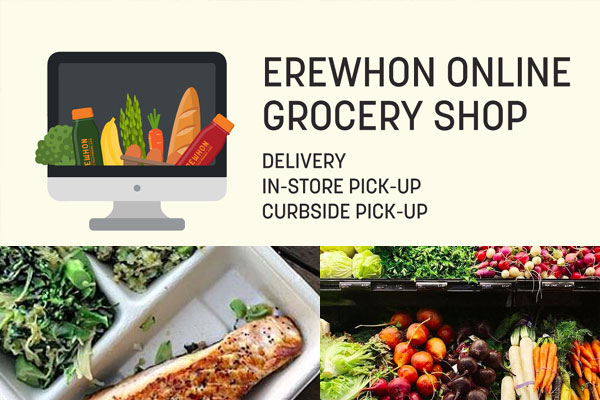 Erewhon Market Locations :
Erewhon locations, opening hours, phone number, delivery information.
Erewhon Market CALABASAS
Grocery store featuring a wide variety of organic products plus a juice bar. Offering Curbside pickup and No-contact delivery services.
Address :
The Summit at Calabasas
26767 Agoura Rd, Calabasas, CA 91302, United States
Phone : (818) 857-3366
Opening Hours :
Mon – Sat : 7am-9pm
Sun : 8am-9pm
Online Order & Delivery : erewhon.storebyweb.com
www.ubereats.com | www.instacart.com
Erewhon Market VENICE
Offering In-store shopping, Curbside pickup & Delivery services.
Grocery store Address :
585 Venice Blvd, Venice, CA 90291, United States
Phone : (310)362-3062
Opening Hours : 7am-10pm daily
Order Online & Delivery : erewhon.storebyweb.com
www.ubereats.com | www.instacart.com
Erewhon Market LOS ANGELES
Grocery store featuring a wide variety of organic, local & sustainable groceries & prepared fare. Store services are In-store shopping, In-store pick-up and Delivery.
Address :
7660 Beverly Blvd A, Los Angeles, CA 90036, United States
Phone : (323) 937-0777
Store Hours :
Mon-Sun : 7am – 10pm
Cafe: closes at 9pm
Shop Groceries Online at : erewhon.storebyweb.com
Erewhon Market Santa Monica
Grocery store offering a great selection of organic produce, vegan food items etc.
Address :
2800 Wilshire Blvd
Santa Monica CA 90403
2800 Wilshire Blvd, Santa Monica, CA 90403, United States
Phone : (424) 433-8111
Store Hours :
Mon-Sun : 7am – 10pm
Cafe: closes at 8pm
Shop Groceries Online at : erewhon.storebyweb.com
Erewhon Market PALISADES
Grocery store in Pacific Palisades. 100% organic produce, made from scratch organic dishes, salads, soups and desserts. A wide selection of raw, vegan, gluten-free, keto and paleo items throughout this store.
Store services are In-store shopping, Curbside pickup and Delivery.
Address :
15285 Sunset Blvd, Pacific Palisades, CA 90272, United States
Store Opening Hours :
Mon – Sun : 8am – 9pm
Cafe: Closes at 8pm
Phone : 310.561.8898
Shop Groceries Online at : erewhon.storebyweb.com
Erewhon Market Silver Lake
Natural-foods market and grocery store in Silver Lake featuring healthy, organic groceries,
Address :
4121 Santa Monica Blvd, Los Angeles, CA 90029, United States
Opening Hours : Mon – Sun : 7am-10pm
Cafe Hours : Daily 7:00am – 9:00pm
Phone : (213) 758-7854
Shop Online at : erewhon.storebyweb.com
Erewhon Organic Grocer and Cafe
Phone : 323.370.7001
Corporate Office
2430 E 11 Th Street
Los Angeles CA 90021
Erewhon Website Address : https://erewhonmarket.com/ | Instagram | LinkedIn