Fairprice Movers – San Francisco
SAN JOSE based moving company. Specialize in high-end moves with prices to suit all budgets and all types of moves. Offer packing services, moving services, unpacking services, custom crating, art moving, piano moving, antique moving, and long and short term storage.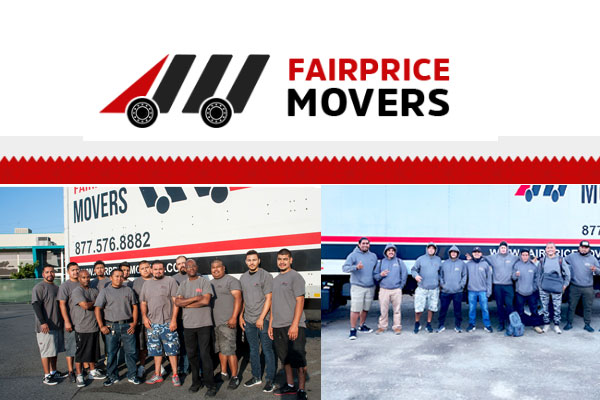 SERVICES :
– Local Moving
– Residential Moving
– Commercial And Office Moving
– Packing Services
– Storage Service
– Long Distance Moving
CALIFORNIA Office Locations :
Fairprice Movers – San Francisco
1126 Fell St, San Francisco, CA 94117
Phone: (415) 862-1964
Hours : Daily 8 AM – 8 PM
Other Locations :
Los Altos, Saratoga, Menlo Park, Foster City, Sunnyvale, Gilroy, Santa Clara, San Mateo, Morgan Hill, Atherton, Cupertino, Burlingame, Los Gatos, Redwood City, Palo Alto, Mountain View, Hayward, Richmond, Livermore, Brentwood, Berkeley, Walnut Creek, Danville, San Ramon, Union City, Fremont, Fremont, Martinez, Alamo, Concord, Newark, Oakland, Castro Valley, Pleasanton, San Leandro, Manteca, Merced, Capitola, Santa Cruz, Santa Rosa, Tracy, Boulder Creek, Modesto, San Rafael.
FairPrice Movers Menlo Park
810 Coleman ave #19 Menlo Park 94025
Branch Phone Number : (650) 398-0055
Fairprice Sunnyvale Movers
Address: 1198 Fairwood Ave, Sunnyvale, CA 94089
Branch Phone Number : (408) 459-4210
Fair Price Movers – Santa Clara
895 Bing Dr apt 2, Santa Clara, CA 95051
Branch Phone Number : (408) 883-5863
Fair Price Movers – Palo Alto
2279 Santa Ana St, Palo Alto, CA 94303
Branch Phone Number : (650) 398 0055
Fair Price Movers – Hayward CA
391 Ocie Way, Hayward CA 94541
Branch Phone Number : (510) 892-4334
FairPrice Movers – Richmond, CA
2841 Garvin Ave. Richmond, 94804
Branch Phone Number : 510-513-8039
Fair Price Movers – Walnut Creek, CA
4695 Chabot Dr Pleasanton, CA 94588
Branch Phone Number : (925) 203-5642
Fair Price Movers – Martinez, CA
2039 Silver Lake Way, Martinez, CA 94553
Branch Phone Number : (925) 203-5642
Fairprice Movers – Santa Cruz
895 Bing Dr apt 2, Santa Clara, CA 95051
Branch Phone Number : (831) 440-7939
Fair Price Movers – Santa Rosa, CA
4674 Katie Lee Way Santa Rosa CA 95403
Branch Phone Number : (707) 237-5991
Fairprice Movers – San Rafael
61 Bridgegate Dr. San Rafael CA 94903
Branch Phone Number : (415) 358-6975
Headquarters :
245 McEvoy St, San Jose, CA 95126
Hours Of Operation
Mon-Fri: 9AM- 6PM
Sat: 9AM – 5PM
Sun: 9AM – 3PM
408-213-8139
Email [email protected]
Website : fairpricemovers.com