Guru Printers
Founded in 2011, Guru Printers is a commercial printer in Los Angeles, California.
Provide startups, large companies, non-profit organizations, and everyone in between a simple and hassle free printing experience. Specializing in 3d printing, copying and design on various media.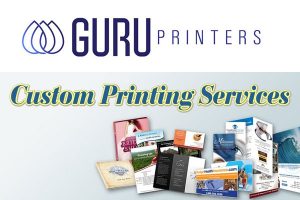 Products :
Business Cards (Standard Business Card, Premium Business Card, Specialty Paper Business Card, Plastic Business Card, Ultra Thick Business Card etc.)
Marketing & Business Essentials (Postcard, Brochure and Flyer, Hang Tag, Door Hanger, Presentation Folder, Booklet and Catalog etc.)
Invitations & Stationery (Invitation and Announcement, Greeting Card, Letterhead, Envelope etc.)
Signs, Banners & Large Format (Banner, Banner Stand, Sign, Canvas Printing, Window + Wall Decals & Vinyl Lettering, Poster Printing, Photo Printing etc.)
Stickers & Roll Labels (Crack and Peel Stickers, Roll Labels, BOPP Roll Labels, Vinyl Bumper Stickers)
Pickup Locations :
Guru Printers Downtown : (213)612-4451
700 South Flower Street #2750
Los Angeles, CA 90017
Pick-up Hours :
Monday – Friday: 10:00 AM-3:45 PM
Saturday & Sunday : Closed.
* We Validate Parking for 2 hours in the Macy's / Bloc Parking Lot.
Guru Printers Arts District : (213)935-8657
941 East 2nd Street #103
Los Angeles, Ca 90012
Pick-up Hours :
Monday – Friday: 10:00 AM-3:45 PM
Saturday & Sunday : Closed.
* Curbside Pickup is available.
Address :
Guru Printers Los Angeles
700 S Flower St #2750
Los Angeles, California 90017
Downtown : (213) 612-4451
Arts District : (213) 935-8657
Emil : [email protected]
Website : guruprinters.com
Facebook : www.facebook.com/GuruPrintingServices