H. Savinar Luggage Co. has been owned and operated by the Savinar family for over 100 years.
H Savinar Luggage Los Angeles warehouse is one of the largest selections of nationally advertised brands of luggage, briefcases, laptop cases and travel accessories.
Brands :
Aminco, Apple Leather Care, Athalon, Baggallini, Boconi, Bosca, Bric's, Briggs & Riley, Buxton, Castello, CCL Locks, Clemco, Curry, Delsey, Eagle Creek, Epic, Hartmann, Hedgrin, High Sierra, Jack Georges, Johnston & Murphy, Kenneth Cole, Heritage, Knomo, Korchmar, Laughing Rabbit, Lewis N. Clark, LiteGear, Lodis, Mancini, McKlein, Osgoode Marley, Pathfinder, Piel, Ricardo, Rimowa, Roncato, Samsonite, Scully, Shed Rain, Solo, Spybelt, Swiss Army, Thule, Tucano, Travel Pro, Travel Smart, Tude Tags, Victorinox, Wally Bag.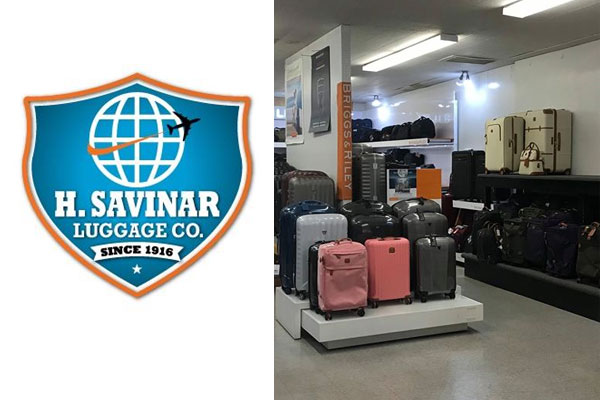 Locations :
West Los Angeles
4625 W. Washington Blvd
Los Angeles, CA 90016
Phone : 323-938-2501
Hours :
Mon – Fri : 9:00 AM – 5:00 PM
Sat : 10:00 AM – 5:00 PM
Sun : Closed.
Canoga Park
6931 Topanga Cyn Blvd
Canoga Park, CA 91303
Phone : 818-703-1313
Hours :
Mon – Sat : 10:00 AM – 5:00 PM
Sun : 11:00 AM – 4:00 PM
Website : savinarluggage.com | Facebook