Hilton Los Angeles Airport Hotel
4-star hotel near LAX airport (approx. 6/7 min / 0.8 miles from Los Angeles International Airport), conveniently located at 5711 W Century Blvd, Los Angeles, CA 90045, United States. Offering free 24-hour shuttle service to Los Angeles International Airport.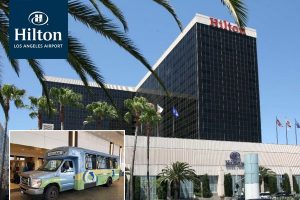 Amenities and Services :
Self parking : $41.80 Garage Parking
Valet parking : $49.50 (Charging Station:Yes)
Business Center with other services, Meeting Rooms etc
Family friendly Package Offered, Children's Menu etc
Laundry / Valet Service
Multi-Lingual Staff
Fitness, Pool, Sight Seeing Tours, Sightseeing Trs-see concierge etc
Hilton LAX Airport Shuttle schedule / hours :
Hilton Los Angeles Airport shuttles run 24/7 and departs every 15-25 minutes from the front drive of the hotel.
Hotel Policies :
Check-in: 3:00 pm; Check-out: 12:00 pm
Pet Friendly Hotel (60 lbs Maximum Weight, $30.00 Non-Refundable)
How to Book Online :
▣ Official Hotel parking reservation website : airportparkinglax.net.
▣ Book airport parking with parksleepfly.com



– Parking (Included with Package)
– Airport Shuttle (To & From Hotel Included)
►

▣ Book with : ParkSleepHotels.com



– Free Parking for up to 7 Days
► Hilton Los Angeles Airport
Address :
Hilton Los Angeles Airport
5711 West Century Boulevard, Los Angeles, California, 90045, USA
Phone : +1-310-410-4000
Fax : +1-310-410-6250
Email : LAXAH_Hospitable[at]hilton.com
[at] = @
Website : www3.hilton.com/en/hotels/california/hilton-los-angeles-airport-LAXAHHH/index.html