Natural Raw pet food company in Idyllwild, California. Monarch is a producers and supplier of row food for dogs and cats. As well, a leading raw dog food company in California.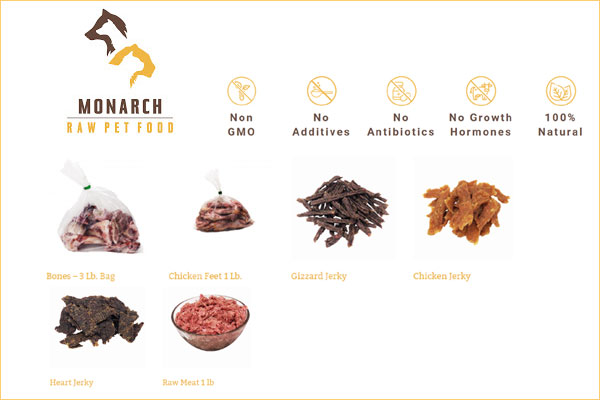 Why should you use raw pet food ?
Because row foods are Non GMO, use No Additives, No Antibiotics, No Growth Hormones and 100% Natural.
Allergies in Dog ? you can try using raw pet food. Give Your Pets a Happier, Healthier Life!

Dog Foods :
► Raw Bones (cow bones, pig bones, and deer bones),
► Chicken Feet
► Gizzard Jerky
► Chicken Jerky
► Heart Jerky
► Raw Meat
Dog Food Price :
Bones 3 Lb. Bag $4.75
Chicken Feet 1 Lb. $3.00
Gizzard Jerky $5.00
Chicken Jerky $5.00
Heart Jerky $5.00
Raw Meat 1 lb $2.50
Monarch Raw Pet Food Idyllwild California Locations :
Monarch Raw Pet Food Idyllwild California
Store location :
25870 Highway 243, Idyllwild, CA 92549
Hours :
Sundays : 11 am – 5 pm
Monday – Saturday : Closed.
Phone : (951) 553-4764
Raw Pet Food La Quinta, CA (Location Coming Soon)
Location TBD
La Quinta, CA 92253
Phone : (951) 553-4764
Raw Pet Food Laguna Niguel, CA
Certified Organic Farmers Market Laguna Niguel, CA
Plaza De La Paz Shopping Center, Parking Area in Front of CVS.
Address : 27241 La Paz Rd., Laguna Niguel, CA 92677
Hours : Sunday 8am – 12pm (Open All Year Long)
Phone : (951) 553-4764
Monarch Raw Pet Food Palm Springs, CA
Address : 555 S. Sunrise Way, Unit 303, Palm Springs , CA 92264
Hours :
Monday : 8am – 1pm
Open All Year Long
Phone : (951) 553-4764
Monarch Raw Pet Food Orange, CA
Certified Organic Farmers Market Orange, CA
Located in Irvine Regional Park, Parking Area 2.
Address : 1 Irvine Park Road, Orange, CA 92869
Hours :
Tuesday : 9am – 1pm
Open All Year Long
Phone : (951) 553-4764
Monarch Raw Pet Food Rancho Mirage
Lamps Plus Parking Lot Rancho Mirage, CA
Located in the parking lot behind Lamps Plus.
Address : 71905 Highway 111, Rancho Mirage, CA 92270
Hours :
Wednesday Hours : 8am – 1:00pm
Open All Year Long
Phone : (951) 553-4764
Monarch Raw Pet Food San Jacinto
Certified Organic Farmers Market San Jacinto, CA
2575 South San Jacinto Avenue
San Jacinto, CA 92583
Hours :
Thursday Hours : 8am – 1pm
Open All Year Long
Phone : (951) 553-4764
Email : [email protected]
Website : www.monarchrawpetfood.com