Off-Road Parts stores in San Diego, California. Off road warehouse list, off-road brands, 4×4 off road accessories shops online and in-store address, phone number and more.
Jeep-Toyotoo 4×4 Dismantler
Largest inventory of new and used Jeep parts and Land Cruiser used parts in San Diego County. Also do repair and fabrication works.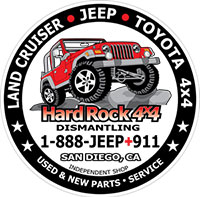 Address :
920 Heritage Rd.
San Diego, California 92154
E-mail : Hardrock4x4[at]yahoo.com
[at] = @
Phone : 1-888-5337-911
Mobile Phone Number : 619-661-8242
Hours of Operation : Monday to Friday: 8:00am till 5:00pm
Saturday: 8:00am till 2:00pm. Sunday: CLOSED.
Website : jeep911.com
4WP Chula Vista
Leading Off-Road parts shop in San Diego, California. Auto supply store chain specializing in Off Road Truck & Jeep 4X4 Parts & Custom Installation in California. Best priced parts for trucks, Jeeps, SUVs & ATVs at 4WP stores in California.
** Special Deals on Truck, Jeep & UTV Parts and Accessories
** $10 Off Orders of $150 or More with Discount Code.
** Find deals up to 20% OFF on off-road accessories from your favorite 4×4 brands.

** $20 off Orders Over $400 with code BUYNOW at 4WheelParts.com
, For a Limited Time. Exclusions Apply.


Address :
1427 Broadway, Chula Vista, CA 91911
Phone : 619-425-4337
Sales Associate : 619-425-4337
Fax : 619-425-2571
Email : chu[at]4wheelparts.com
[at] = @
Hours :
Mon-Fri : 9 a.m. – 6 p.m. (Local Time)
Saturday : 9 a.m. – 3 p.m. (Local Time)
Sunday : Closed.
Website : www.4wheelparts.com
Off Road Warehouse – San Diego
One-stop Off-Road parts shop in San Diego, California since 1973. Located in Southern California with four retail stores in San Diego, El Cajon, Escondido, and Temecula. Also offers repair and maintenance service on most domestic and foreign cars, trucks, and SUVs.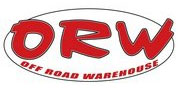 Address :
ORW San Diego
7915 Balboa Ave., San Diego, CA 92111
Phone : 858-565-7792
Opening Hours :
M-F 9am-6pm PST, Sat 9am-3pm PST
Closed Sundays.
Website : offroadwarehouse.com
DownSouth Motorsports
Racing car parts store in San Diego, California.
Offer products from the following brands : King Shock Technology, FOX, Bilstein, Radflo, Baja Designs, Camburg Off Road Engineering, Carli Suspension, Hypercoil, ICON Vehicle Dynamics, Old Man Emu (OME), RCD Suspension, Rigid Industries, Total Chaos Fabrication.



Address :
7075 Mission Gorge Road, Suite P,
San Diego, CA 92120, United States.
Phone : 1-888-973-6967 (Mon – Fri 9:00 – 5:00 PM PST)
1-619-450-6128 (International Orders)
Fax : 1-619-487-1491
Hours of Operation :
Monday through Friday : 7:30am until 4:00pm PST
Saturdays : Closed.
Sundays : Closed.
Website : downsouthmotorsports.com
Ivan Stewart Motorsports
An authorized Polaris dealership. Products are Polaris RZR's, Rangers, ATV's parts, accessories and custom parts.



Address :
7879 Raytheon Road, San Diego, CA 92111
Phone : 858-848-7095, (866) 445-4087
Service : (858) 848-7095
Opening Hours :
Mon – Sat : 10:00 AM – 6:00 PM
Sun : Closed.
Website : ivanstewartmotorsports.com | Facebook
Autofab
In business since 1977 building custom cars and trucks. Full fabrication shop with an off road product line for shops and home builders. Selling online and in-store quality fiberglass body parts, motor mounts, suspension kits and components for the off road chassis etc.



Address :
10996 N Woodside Ave, Santee, CA 92071
Phone : (619) 562-1740 Mon-Fri 9am-5pm (PST)
Fax : (619) 562-6151
Website : autofab.com | Facebook
Race Ready Products
Auto parts store in Chula Vista, California. Providing quality racing equipments for more than 25 years. Also a leading supplier of race car or pre-runner with top quality parts and accessories at competitive price.
Products : Accessories, Body Components, Brakes & Pedals, Chassis Components, Cooling, Drivetrain, Electrical Components, Engine Performance, Fluids, Fresh Air Helmet Systems, Fuel Delivery, Lights, Navigation/GPS, Safety Products, Seats, Shifters, Shocks, Steering, Suspension, Tires, Wheels, Tools, UTV Parts, Videos & Books.



Address :
103 Press Ln., #4, Chula Vista CA 91910
Phone : 619.691.9171, 619.691.9174, 619.476.7891
Toll Free : 866.891.9171
Fax : 619.691.0803, 619.691.5307
Store Hours :
Monday – Friday : 9:00am – 6:00pm
Saturday : 10:00am – 3:00pm
Website : www.racereadyproducts.com
San Diego Chrysler Dodge Jeep Ram
Car dealer (a franchised dealer of Chrysler, Dodge, Jeep and Ram vehicles), service center and auto parts (genuine Mopar parts) dealer in San Diego, California.

Address :
777 Camino Del Rio South,
San Diego, CA 92108
Sales : (619) 880-4833
Service : (619) 880-4832
Parts : (619) 821-9316
Opening Hours :
Mon – Sat : 7:30am-9:00pm
Sun : 10:00am-7:00pm
Website : sandiegochrysler dodgejeepram.com | Facebook