Pacific Customs Unlimited Inc
Auto parts store in Corona, California. Source for Street, Off Road, Sandrail, Dune Buggy, Manx, Rock Crawler, Volksrod, or Mud Buggy VW Parts since 1997. Pacific Customs Unlimited, Inc. is a distributor of VW performance parts, both Street and Off-Road products. Over 4500 products available to suit your project can be shipped directly to you via UPS through this E-Commerce store. Most orders ship within 24 hours.
Suppliers / Manufactures of products :
AN Hose and Fittings, Autometer, Beard Seats, Bosch, Bugpack, Control Cables, Avcomm Communication and Radio Kits, Centerline, Crow Safety, CNC, Douglas Wheels, Empi, Engle Cams, Eibach, FK Heims, Fox Shox, High Torque Starters, Howe Power Steering, King Shocks, Kennedy Clutches, KYB Shocks, Kartek, Latest Rage, Mahle Pistons, Mickey Thompson Tires, Outerwears, Pertronix, Parker Pumper, Pro-Am, Race Trim, Saco, Sweet Manufacturing, Swepco, Total Seal, TMI Upholstery, Tatum, Tri Mil, VDO, Web Cams, Xtreme Tires.
Street Products :
Include stock replacement products, restoration products, and high performance products related to the Volkswagen* Beetle and its air cooled engine.
Off Road :
a diverse product line for customers building Sand, Desert, and other Off-Road vehicles from the ground up or customizing their existing vehicle. Whether your project vehicle is a stock to high performance VW Beetle, Baja Bug, Desert Buggy, Sand Rail, Dune Buggy, Manx, or fiberglass kit car. Pacific's comprehensive inventory can satisfy your street or off road project requirements.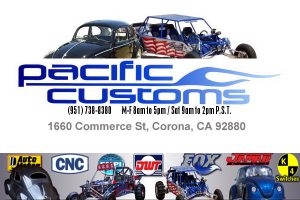 Address :
Pacific Customs Unlimited Inc
1660 Commerce St, Corona, CA 92880, United States.
Phone : 951-738-8380
Store Hours :
Monday thru Friday : 8:00am to 5:00pm P.S.T.
Saturday : 9 to Noon.
Website : www.pacificcustoms.com