Parachute Home
Bedding stores in Los Angeles & San Francisco. Founded in 2014, Parachute makes modern Bedding and Bath essentials including premium quality sheets, towels, robes, rugs and all things soft and wonderful.
Products :
Bedding
Sheeting + Top of Bed
Bedding Sets
Pillowcases + Shams
Fitted Sheets
Top Sheets
Duvet Covers
Quilts + Blankets
Baby bedding products
Bath
Towel Bundles
Towels
Robes + Slippers
Rugs + Mats
Shower Curtains
Bath Accessories
The Mattress
Price : $1,899
100% Organic Cotton, eco-friendly, non-toxic Mattress.
– 10 Year Warranty
– Optional White Glove Delivery + old mattress removal
– 90 Day Trial
Baby Products :
Linen Crib Sheet, Baby Quilt, Cashmere Baby Blanket, Toddler Pillow, Quilted Baby Sham, Hooded Baby Towel, Percale Crib Sheet, Cashmere Baby Gift Set, Waffle Baby Blanket, Striped Linen Baby Quilt, Striped Linen Baby Sham, Baby Washcloth, Cloud Cotton Baby Quilt, Stuffed Hippo, Stuffed Panda, Stuffed Rhino etc.
Where to buy ?
Visit in-stores or buy online at www.parachutehome.com or fb
Delivery & Shipping :
Parachute ships to the following: all 50 States (including Alaska and Hawaii), American Samoa, Guam, Puerto Rico, the US Virgin Islands, military bases/APO/DPO/FPO addresses, Australia, Canada, Germany, New Zealand, Sweden, Switzerland and the United Kingdom. also provide free domestic ground shipping.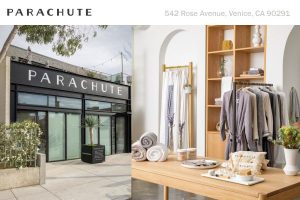 Parachute Home bedding Los Angeles
Parachute Venice – Flagship
542 Rose Avenue, Venice, CA 90291
Phone : 310-314-0119
Email : [email protected]
Store Hours :
Mon – Sat : 11am – 7pm
Sun : 11am – 6pm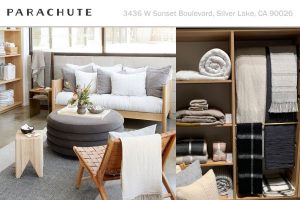 Parachute bedding Los Angeles
Parachute Silver Lake
3436 W Sunset Boulevard, Silver Lake, CA 90026
Phone : 323-741-0045
Email : [email protected]
Opening Hours :
Mon – Sat : 11am – 7pm
Sun : 11am – 6pm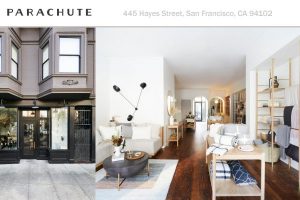 Parachute bedding San Francisco
Parachute San Francisco
445 Hayes Street, San Francisco, CA 94102
Phone : 415-796-3478
Email : [email protected]
Store Opening Hours :
Mon-Sat : 11am-7pm
Sun : 11am-6pm
Parachute Home (San Francisco) : Facebook
Website : www.parachutehome.com | Facebook

Discounts / Special Offers :