California Kitchen Equipment Supply Stores List #1
Find houseware, glassware, cookware, bakeware. California Wholesale kitchen equipment stores list. Find California kitchen / restaurant supply stores in your city. Warehouse, office and outlet store address.

List of Restaurant Supply stores and Online shops, CA :
Find quality cookware brands for your kitchen : All-Clad Cookware, Amoretti Brothers Cookware, Calphalon Cookware, Cristel Cookware, Le Creuset Cookware, Mauviel Copper Cookware, Scanpan Cookware, Swiss Diamond Cookware, USA Pan Cookware. View All Cookware Brands.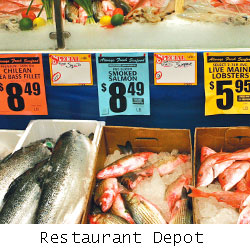 Restaurant Depot LLC
Located in Anaheim, CA – Restaurant Depot is a wholesale cash and carry food service supplier since 1991. [California, Southwest & Northwest].
Products :
A full range of fresh, frozen & dry foods, beverages, dry groceries, paper goods & cleaning supplies and equipments.
Hours :
Mon – Fri : 7:00 am – 6:00 pm
Sat : 7:00 am – 4:00 pm
Sun : 8:00 am – 3:00 pm
Address :
1265 N Kraemer Blvd., Anaheim, CA 92805.
Phone : 714 666 8211
Website : restaurantdepot.com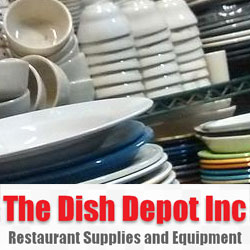 The Dish Depot Inc.
Located in Los Angeles, CA – Dish Depot is a restaurant supply store.
Products :
Dishes, glasses, silverware, appliances, cleaning products, sanitizer, glass cleaner, TISSUE paper, bleach, all types of food serving baskets and many more items.
Hours :
Mon – Fri : 10:00 am – 5:00 pm
Sat : 9:00 am – 2:00 pm
Sun : Closed.
Address :
546 W Garfield Ave, Glendale, CA 91204, United States.
Phone:(818) 246-4000
Website : thedishdepotinc.com
More Cookware Stores in California :