Saehan Travel & Tours Inc.
Saehan Travel & Tours Inc. is a Korean-speaking America tour company and Korea travel agency in Los Angeles, California. Specialize in serving Korean and Korean-American customers in the United States and around the world. Offer lowest possible airline tickets, hotel booking, and Korean tour packages.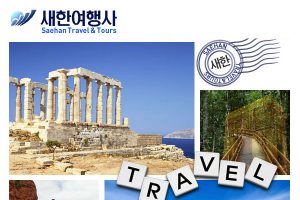 Products / Services :
Last minute airline booking
Domestic & International Airline Tickets
Tour Packages
Visa Assistance
Tour Packages :
Saehan Travel & Tours Inc. offers incredible tours of some of America's most spectacular destinations.
Mount Rushmore (4 Days, 3 Nights) – $849
Grand Canyon & Las Vegas (3 Days, 2 Nights) – $299
Death Valley & Las Vegas (2 Days, 1 Night) – $179
Monument Valley, Arches National Park, Lake Powell & Las Vegas (5 Days, 4 Nights) – $649
US West Coast (6 Days, 5 Nights) – $599
Bryce & Zion Canyons (3 Days, 2 Nights) – $289
Sedona (3 Days, 2 Nights) – $279
Sequoia & Kings Canyon (2 Days, 1 Night) – $189
Yellowstone (4 Days, 3 Nights) – $799
Yosemite & San Francisco (4 Days, 3 Nights) – $389
California Taste (2 Days, 3 Nights) – $279
Pacific Coast Train Journey (2 Days, 1 Night) – $229
Grand Canyon Korean Tour
Most Popular :
One-of-a-kind trip to South Korea's capital Seoul
San Diego vacation with package plans
▣ Awards & Recognition :
• Korean Air Southern California Area Top 10 Agency Award (1989-2016)
• Asiana Airline Southern California Area Top 10 Agency Award (1992-2016)
• Singapore Airlines Silverkris Award (2000-2001 & 2011-2014)
• American Airlines Star Sabre Travel Recognition for Stellar Performance (1994)
► International Airlines Travel Agent (IATAN)
► American Society of Travel Agents (ASTA)
► Cruise Lines International Association (CLIA)
Address :
NEW KOREA TRAVEL
Toll Free : 1-800-421-5489
새한여행사 (Saehan Travel Agency)
Tel : (213) 383-4988
Fax : (213) 383-5044
Hours of Operation :
Monday – Friday: 9:00 a.m. – 6:00 p.m.
Saturday: 9:00 a.m. – 2:00 p.m.
Emergency Service Available – Call (213) 249-0217
Email : newkoreatravel[at]yahoo.com
[at] = @
Website : www.newkoreatravel.com | www.saehantravel.com