Shahrzad Travel Agency Los Angeles
A Persian-owned popular Iranian travel agency in Los Angeles, California. Located in 1641 Westwood Blvd. Los Angeles, Ca 90024.
Shahrzad Travel provides air, sea, and rail travel services to Iran and other countries around the world. Also offering tour packages time to time. visit Facebook page for current tour offers.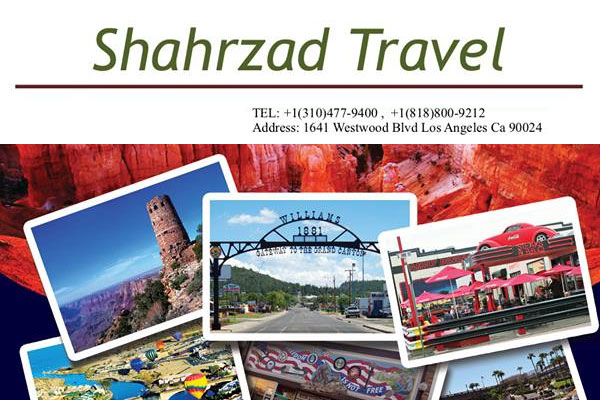 Products / Services :
Grand Canyon Tour : 4 DAYS AND 3 nights, hotel with breakfast
Price $ 495.
Canada Tour package (Vancouver, Victoria Island and Banff).
Turkey Tour package.
Address :
Shahrzad Tours & Travel
1641 Westwood Blvd
Los Angeles, California 90024
Phone : +1 310-477-9400, +1 818-800-9212
Website : shahrzadtours.com | Facebook
Note : replace [at] = @