Sonny Alexander Flowers Los Angeles
Family owned and operated florist located in 3rd street Los Angeles. Offering wedding flowers and it is one of the popular Los Angeles wedding florist. Same day delivery available for everyday unique custom bouquets. Serving the Greater Los Angeles, Downtown Los Angeles, Beverly Hills, San Fernando Valley and Orange County communities.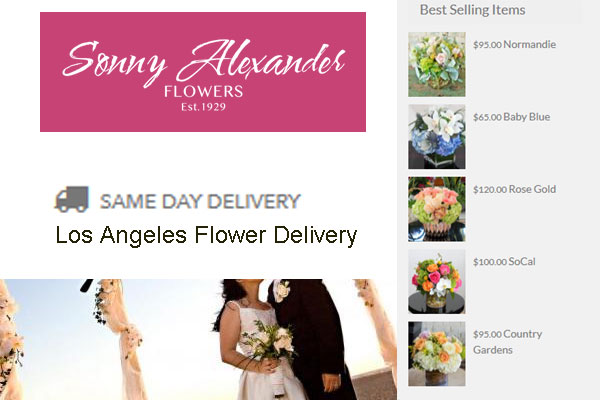 Sonny Alexander Flowers
Sonny Alexander Flowers is one of the leading Los Angeles best florist offering following products and services to it's new and regular customers in Los Angeles area in California since 1929.
Products :
wedding Flower Arrangement
Event Flower Arrangement (Birthday, Baby Showers, Bar Mitzvahs, Bat Mitzvahs, Engagement parties etc.)
Corporate Floral Arrangement
Custom Floral arrangements
Special event flowers
Any other occasions flowers
Services :
Flower arrangements & flower delivery
Weekly Corporate Floral Delivery
Weekly Residential Floral Delivery
Flower Delivery Downtown Los Angeles
Price Range :
$$-$$$ / $50 – $150+
Opening Hours :
Mon-Fri: 8:00am to 6:00pm
Saturday: 8:00am to 4:00pm
Sunday: 9:00am to 4:00pm
Shop & Pick-Up Address :
Sonny Alexander Flowers
‎8008 West Third Street, Los Angeles, CA 90048
Phone : (310) 777-0356
Website : sonnyalexanderflorists.com