Urban Wolf San Diego is a Hand-crafted, raw pet food and treat shop in Downtown San Diego.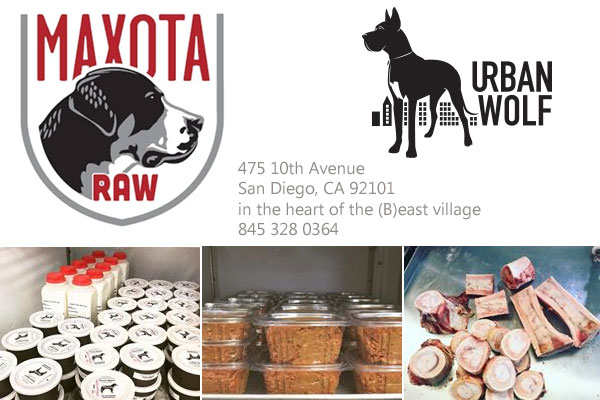 Originally founded in Nyack, NY, Urban Wolf comes to San Diego as the first of its kind.
Urban Wolf is a unique pet deli and boutique that offers fresh, raw, all natural pet foods made in-house, as well as healthy treats and unique accessories for your best friend.
Uses only the best quality, simple, whole food, fresh ingredients and nothing else, guaranteed! All food products at URBAN WOLF are Small Batch, Made in-house, Best Quality, Human Grade, Non Gmo, Gluten Free, Grain Free, No Preservatives, No Additives, No Fillers, Antibiotic Free, Made Fresh Daily With Only 17 Natural Ingredients With 100% Organic Produce and Micronutrients!
Services :
– Free Pet Nutrition Consultation
– Urban Wolf-Pack Meal Plan ($25 – $999, Free local delivery)
kitchen and store Address :
URBAN WOLF
475 10th Avenue
San Diego, CA 92101
Opening Hours : Tue – Sat (12PM – 6PM)
Email : [email protected]
Website : urbanwolfusa.com | www.maxotaraw.com | Facebook | Instagram