White Plum Boutique
Founded in 2012, White Plum is a women's clothing brand, delivers high quality clothes that are within reach of every budget.
Products :
Clothing

Tops
Dresses
Bottoms

Leggings (Capri Leggings, Print Leggings, Solid Leggings, Plus Leggings)
Palazzos
Pants
Skirts
Culottes

Jumpsuits
Accessories

Plus Size (Bottoms, Tops)
Women's Basics
Where to buy ?
– You can order online at www.whiteplum.com
Returns : All returns must be initiated by contacting customer service at [email protected] Please do not send back returns prior to emailing customer service.
* White Plum does not/has not taken orders over the phone.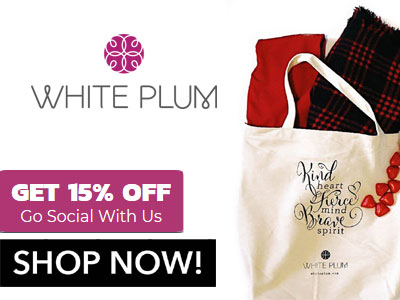 Office Address :
White Plum,
620 S Main St., #302, Los Angeles, CA 90014
Customer service phone : 323-300-8918
Business hours :
Monday through Friday (not including holidays), 8:00 a.m. – 4:30 p.m.
Email : customerservice[at]whiteplum.com
Website : www.whiteplum.com