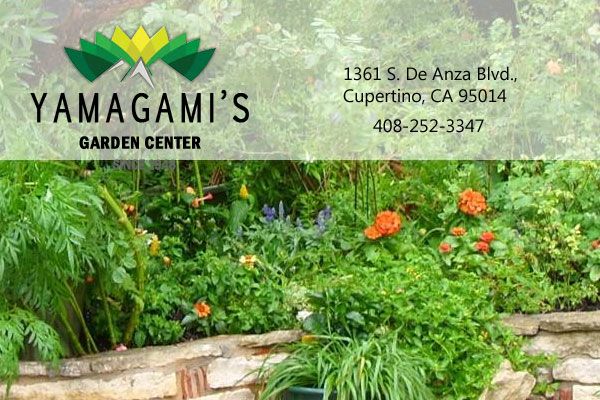 Plants (landscape plants and trees, CA native plants, Australian plants etc.)
Specialty plants include Japanese maples, bonsai trees, water garden plants, Camellias, and a remarkable collection of cacti and succulents.
Garden Supplies :
Natural and organic G&B soils and fertilizers.
Natural products for pest and disease treatment.
Water-wise gardening products include Soaker hoses, water wands, and EZ Water Soil Penetrant.
Felco Pruning Shears.
Services :
– Landscape Design Services
– Delivery Services (delivers to over 60 zip codes in and around the bay area)
– Planting Services
– Lawn Care Reminder Services
– Christmas Services
Address :
Yamagami's Nursery
1361 S. De Anza Blvd., Cupertino, CA 95014
Phone : 408-252-3347
Hours : Wed-Sun : 9am to 4pm
Website : yamagamis.com