Elite Adventure Tours
Private Luxury Tours & Helicopter Charters of Los Angeles, Hollywood & Beverly Hills.
Private Luxury Tours of Los Angeles :
– The Private Tour
– Private Helicopter Charters
– Private Malibu Vineyard Tours
– Malibu Rocky Oaks Private Tour
– Sporting Clays & Skeet Shooting Tour
– Catalina Island
– Magic Mountain
How to book a Tour ?
Visit here for online booking or call at 818-216-0067 or toll-free at 888-328-6871.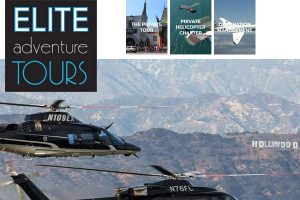 Address :
Elite Adventure Tours
7083 Hollywood Blvd., Los Angeles, California 90028
Phone : 818-216-0067 or toll-free at 888-328-6871
Fax : 866-274-9129
Email : info[at]eliteadventuretours.com
[at] = @
Website : eliteadventuretours.com