Tour Du Jour – Private Luxury Tours of Hollywood and Beverly Hills
One of the best private tour of LA, operating for more than 15 years (since 2001).
The most popular sights seen from a fresh perspective, as well as the lesser-known gems other tours miss. Sights and stops may include: The Hollywood Sign (hear the true story of why it was built) The Hollywood Bowl…our world famous amphitheater. Hollywood and Highland Center, home of the Dolby Theater and The Academy Awards.
Tours :
Tours range from 2 hours to multi-days and include the best of Hollywood, Beverly Hills, Bel-Air, Santa Monica, Venice, celebrity homes and more.
– Private Luxury Tours of Beverly Hills and Hollywood
– L.A. Story (most popular Signature Tour)
– Westside Story (tour to the Westside of L.A.– Brentwood, Santa Monica, Venice Beach, and more. Half-day tour)
– Heart of the City (Downtown Los Angeles, Half-day tour)
– L.A. Short Story (most popular quick trip – Hollywood's past and present)
– Celebrity Homes Tour (QuickTrip to LA and Hollywood Celebrity Homes Tours)
– Hollywood Chills Tour (QuickTrip to Celebrity Scandals and Cemeteries)
– Ultimate L.A. (signature tour of Hollywood and the Beverly Hills area + Westside Story)
– Best of the City Tour (Signature tour of Hollywood & the Beverly Hills area + Heart of the City tour of downtown)
– Custom Tour (You can create your own LA adventure)
Hourly Rates :
Number Of Guests – Hourly Rate
1-2 : $160
3-4 : $190
5-7 : $215
8 and more : Call for details (+1 310.659.2929)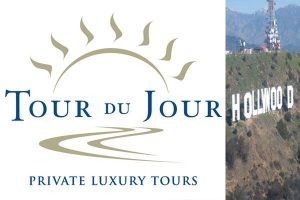 Address :
Tour Du Jour
9663 Santa Monica Blvd., Suite 680, Beverly Hills, CA 90210
Phone : +1 310-659-2929
Email : info[at]tourdujour.net
[at] = @
Website : tourdujour.net | Facebook.com/TourDuJourBeverlyHills