Vegin' Out
Vegin' Out is a premier online vegan food, vegan meals and vegetarian meal delivery service for Los Angeles, Southern California and nationwide. Offers Chef prepared, cooked & delivered weekly vegan meal delivery services.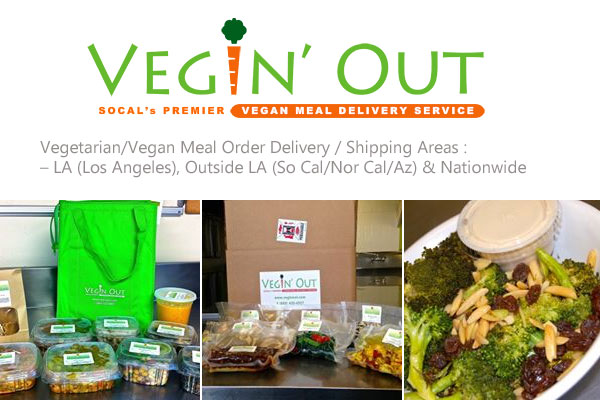 Delivering oil-free, low sodium, low sugar, well-balanced, and cholesterol-free meals to you every week. Gluten free option available upon request. Also available are low carb vegan meal plan, vegan soup and juice cleanse and blood sugar control meal plan.
Vegan Menu :
► Blackened Chick'n Pasta
► Tofu Tagine
► Spiced Chickpea Stew
► Veggie Korma
► Sweet and Sour Veggies
► Lentil Bolognese (2018a)
► Peanut Quinoa
► Spiced Cauliflower (2018a)
► Carrot with Maple Caramelized Onions (2018a)
► Kale with Golden Beets
► Minestrone
► Black Forest Cookie
Meal Plans :
Weekly Vegetarian/Vegan Meal Order Delivery for Los Angeles $127.99
Double Weekly Vegetarian/Vegan Meal Order Delivery (SAVE $20.99!!) $234.99
4 Up Front Weekly Vegetarian/Vegan Meal Orders Delivery (SAVE $25.96!!!) $486.00
5-Day Vegan Soups & Juice Cleanse (Los Angeles Delivery) $160.00
21-Day Vegan Cleanse and Vegan Meal Plan – Los Angeles $373.00
Low Carb Weekly Healthy Vegan Meal Delivery – Los Angeles $160.00
Blood Sugar Control Vegan Meal Plan (Diabetic Friendly – 6 Day Meal Plan) $160.00
Delivery / Shipping Areas :
– LA (Los Angeles)
– Outside LA (So Cal/Nor Cal/Az)
– Nationwide
Weekly vegan meals to you. Starting at $99.99 Los Angeles (code:veg9999) – San Diego, San Francisco, Sacramento, San Jose, Aanaheim, Irvine, Orangecounty, Temecula + anywhere that are outside of LA delivery zone, we ship overnight on Mondays.
Orders outside of California, we ship via FedEx Express on Mondays.
ORDER NOW : Call (800) 420-4927 or
Click here : http://www.veginout.com/order
Address :
Vegin' Out
230 W Ave 26, Los Angeles, CA 90031
Phone : (800) 420-4927
Website : www.veginout.com | Facebook